I already know that I'm going to be one of those people with 50 tarot decks or worse. There are just SO MANY that are SO GORGEOUS and how on Earth are you supposed to just pick one? Why should I, when there is such an astonishing variety of beautiful, meaningful, adorable, or just plain hilarious decks out there?
Here are a bunch of decks that I would love to get my hands on for various reasons, as well as a couple of oracular accessories I'm in love with right now.
This deck by Joanna Nelson is so utterly adorable I can't even stand it. It's pretty much Rider-Waite-Smith, but with a playful, childlike twist. Not every reading has to be Deathly Serious, and if you're turned off by a lot of the heavy-handed JudeoChristian symbolism in the RWS you might have a lot more fun with a deck like this.
This deck is one of the classical-artist-copycat type decks, and I mostly just love it for the art. Each suit is inspired by the work of an Impressionist: Wands are Manet, Cups are Monet, Swords are Van Gogh, and Pentacles are Degas. (The Majors are a mix of all four.)
OMG I MUST HAVE THIS. An officially licensed deck using the artwork and style of the animated adaptation of Peter S. Beagle's The Last Unicorn, one of my favorite childhood books and movies. At the moment I can't quite justify spending nearly 80 dollars on a deck, but I'm hoping it will do well and be in print long enough that I can get my hands on one.
Every time I see someone post about getting this deck I feel a surge of painful envy that I suspect means I would love working with it myself. It's a botanical deck, which I wouldn't have expected to swoon over, but something about the near-monochromatic illustrations and the beautiful snake backing draw me in over and over.
Here's a video review of both the Ophidia Rosa and its sister oracle deck.
There are many modernized Tarot decks, but few that manage to convey diversity, gritty reality, and the sense of hope underlying the Next World cards. They are grounded in the human body and represent it in its full splendor, including all shapes, sizes, genders, abilities, races, ages, you name it. As I understand it the cards are huge, which would probably prevent me from reading with them (I have wee little hands) but I want to touch them and gaze into them, meditate on their layers of meaning.
To quote the Little Red Tarot description of the deck, "The Fool's Journey is about smashing systematic oppression, owning their truths, being accountable to the people and places that support them, and taking back a connection to their body that may have been lost through trauma or societal brainwashing. The NEXT WORLD TAROT is a visual spectacle of both the battle cry and the reconnection between outcasts and their criminalized identities."
I am blessed with a roommate who sews beautifully, so in theory all I'd have to do is find fabric and ply her with cookies to get all the tarot bags I want, but still, I like supporting independent artists out there in the world who create beautiful things as well (or have access to materials it would be way more trouble to acquire or work with than I'd want to inflict on my Roombeest). And one can never have too many pretty bags for Witchy and Mystical Goodness, right?
Isn't this fabric amazing? The same shop has several other patterns I love.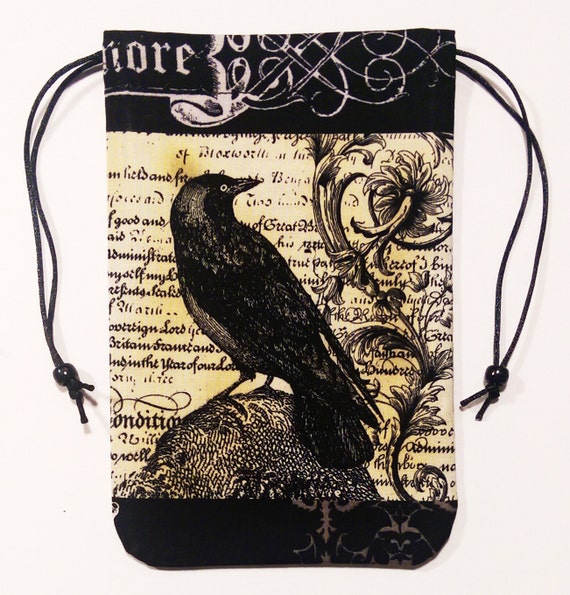 You know, it had never really occurred to me to try a zippy bag for my cards. I guess my inner woo-woo-maven thinks that drawstring is more…magical? I have no idea. But I'd never have to worry about the deck falling out of a zipped up bag. Again, this shop has several alchemical and mystical patterns that would be perfect for cards, runes, or whatever items you need to have on the go.
These colors! I do love a batik. I like wraparound bags and cloths like this one – they feel secure but have more visual and textural interest than a regular old drawstring bag.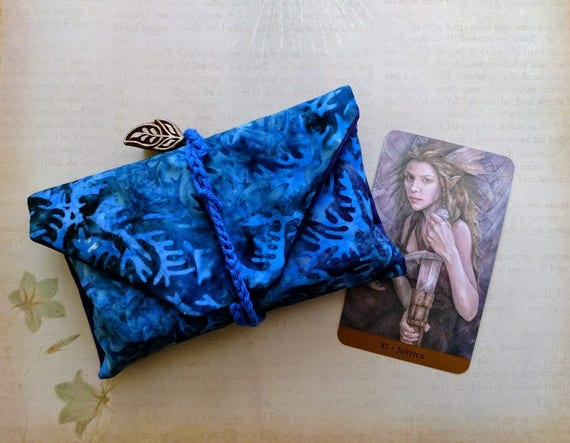 The shop also carries other patterns and additional magical goodies you might enjoy browsing through. Just FYI.
So pretty, nice soft rayon, 18×18″…I might have to snag this one given how affordable it is.
This box is flat out gorgeous, and I'm sitting here doing a Homer!Gurgle just looking at it. I'm also guessing that the Roombeest would be willing to fight me for it given her love of blue things.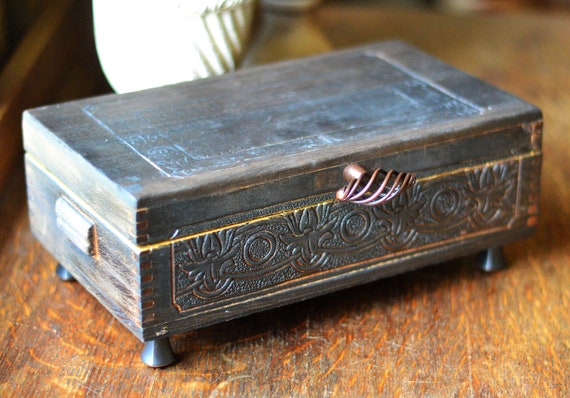 Become my patron for exclusive online content and read new stories before anyone else!