I've noticed a lot of other planner addicts do videos of this sort of thing and actually talk about their favorite stuff.  In theory I could do that – my iPhone takes good video, I have a tripod so I wouldn't have to worry about my hand tremor, in theory I would have enough light in the craft room if I wasn't going for high-end professional quality.  Would stuff like this be more entertaining if I was talking about it out loud?  I've been edging around the idea of trying a video for quite some time but I just can't decide if shy iddle old me could handle people hearing what I sound like.
Anyway, here are ten things that rock my socks right now – mostly related to my paper hobbies, but not all.
1 – Vampire Blood Incense – I was out of this for a very long time, and have tried other means of funking up my bedroom, but after a disastrous haul of melty wax cubes (I had such high hopes, but from now on I'm sticking to the Eco Scents website) I decided I wanted some good old fashioned things to light on fire.  Somehow I ended up ordering an entire box of Vampire Blood, not just a single package.  I'll use it all eventually, but I was kind of thinking of giving a couple away on my blog or maybe on Facebook.  Mostly I just want other people to smell this stuff, I love it hugely.  (It's basically a nag champa type smell, nothing like blood or vampires, unless your vampires are hippies.)
2 –  Autumn Leaves washi tape from Happy Zakka Life – the picture does *not* do this stuff justice.  It's beautiful and very high quality both in material and color.  It just screams Fall the second you put it on a page.
3 – Fancy decorative paper clips and bookmarks are a big thing in the Land of the Plannuts.  I've been mostly immune, but I did fall madly in love with these skull clips: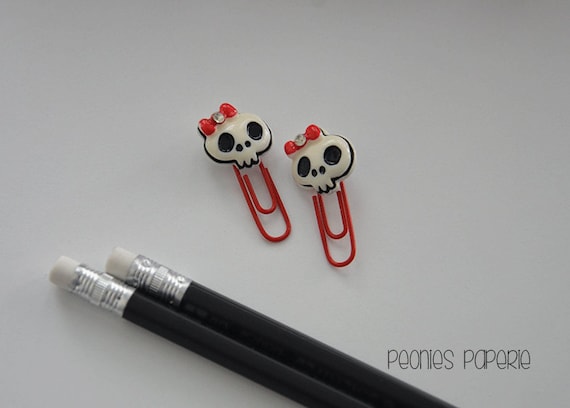 Aren't they darling?  They're also low cost and come from Dallas, which meant the whole deal worked out gorgeously for me.
4 – Planner Essentials Videos on YouTube – you'd be astonished (or maybe not) at the number of videos there are on YT related to Filofaxes and Erin Condren planners and all their friends.  One of my favorite types is the "planner essentials" video where the host shows everything she carries in her travel bag for planning on the go – not so much because I want to copy them as because it just fascinates me the differences in how people use such a simple thing as a personal calendar.  Some people only have the bare necessities in case an appointment comes up, and if they do any decorating it's at home; some people carry a crapload of stickers, tapes, and markers.  I guess I'm kind of in the middle – I carry a box of supplies (this sturdy and handy box, in fact, though mine didn't come with a puppy), but it's both for planning and doing doodles or small artwork, so a lot of the tools – metal ruler, precision scissors, bone folder, that sort of thing – have a lot of uses.  Then too I also carry a sticker book, mostly because it's fun to say I'm a 37 year old woman who carries a sticker book.
5 – Mini ink Cubes – once again, Tim Holz's Distress Ink did it first, but now everyone's getting into the ink cube act (there've always been wee ink pads but this particular size and square are very trendy).  They're cheaper than big pads, more maneuverable and portable, and, well, cute as shit.  I have quite a few Distress cubes, but the new ones I got lately were from Simon Says Stamp, and they're hybrid ink – some of the attributes of pigment ink and dye ink, and ideal for using in planners because they dry fast and bleed less.  The set that I have has what have apparently become my go-to decor colors for this sort of thing:  teal, a sort of raspberry pink, purple, and green.  I can fit at least three mini pads in my supply box, as well as a mini Altoids tin of stamps.
6 – Six-Hole Punch from Open Industries – I adore this punch, because not only is it sized to punch the six holes in a Filofax A5, the holes are adjustable to several other sizes just with a simple slide and click.  You don't realize how hard it is on your wrist to single-punch those bastards six times over and over until you have an alternative.
7 – Since I'm singing the praises of Tim Holz in this post already, I should add another new product he's put out that is making my life hella easier:  Distress Micro Glaze.  Basically it's a wax you rub into paper projects that forms a protective seal over Distress and other inks, pens, markers, whatever.  A lot of glazes and finishes will cause the ink to run or go all splotchy, especially since Distress Inks are water-based; but if you rub a thin, thin layer of this waxy stuff all over your project, you're golden.  Just be sure and wait until it stops feeling tacky, which depending on your climate could be a day or two.  I've been using it on backgrounds and paper bits inside my shrines, as well as on the Ravenclaw divider I made and posted here a while back.  Also, it smells just like copal oil, a medium used in oil painting that takes me right back to my grandmother teaching me to paint.  Extra points for positive nostalgia.
8 – It's possible there are cuter sticky notes than these to-do animals, but I kind of doubt it.  (I got the pigs.)
9 – My own stickers.  Some of what I used I made myself; other stuff I buy already made (or download and print).  Most of my decor stickers are from other shops or creators, but most of my practical reminders are my own work.  A notable exception are the colored dots I use from The Reset Girl (the video above is hers); sure, I could make my own dots, and I could get colored dot stickers from anywhere, but I like her colors, and there are only two specific ones I need:  one to mark Patreon posts, and one to mark posts here on CrazyBeautiful.  I also use a "Happy Mail" I downloaded, but I might start using my snail instead.  Other than that, I use:
10 – And in a completely unrelated to any of this sort of way, I love this song.  (Although since I do listen to a lot of music while I'm making things it might sort of be related.)  Did you know that Elle King is the daughter of Rob Schneider the comedian?  I like to say that this song has fantastic hips.
Become my patron for exclusive online content and read new stories before anyone else!